Kristina Hladunova

Head of Marketing Team
Developing marketing strategies and implementing them.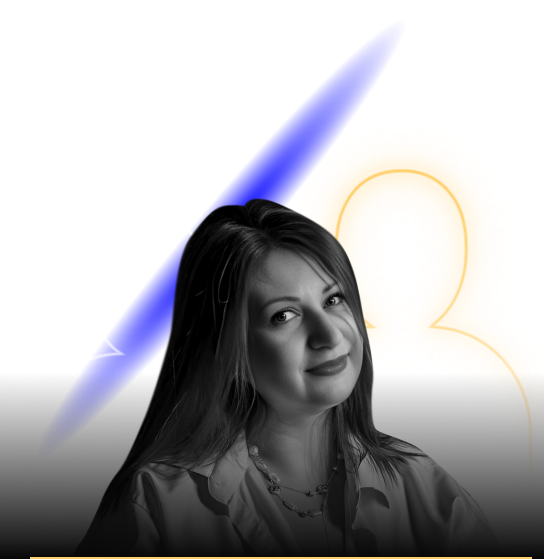 Welcome! Today we have an interview with Kristina Hladunova, our agency's marketing manager and the Head of the Marketing Department.
Could you please tell us how and when you decided to start your career in marketing?
— It's hard to give an exact date. The foundation was laid at the university when I was studying Organization Management. My marketing professor was teaching the subject so engagingly that I chose this area, not economics or management, as the topic of my diploma thesis.
After that, I had experience in other areas, but I returned to marketing in 2015 as an assistant to the Head of a Digital Marketing agency. Since then, I have been developing exclusively in the field of marketing. 
What projects have you worked on during your career? 
— Over the years, I've worked with a variety of industries and a large number of projects. These were B2B and B2C businesses, goods and services, local businesses, and international companies. The latest Solve Marketing projects I've been involved in are Celeste Energy, a cryptocurrency exchange, an international SaaS service, the Fabbi furniture store, and the "Tyhi Ostrovy" recreation center. 
What has been interesting in your work recently?
— As a marketer, I am interested in watching the transformation of the Ukrainian consumer market. Previously, buyers were mostly indifferent to the political or social position of the manufacturing company or the country where the products were made. Now, on the contrary, they follow what brands, their owners, and partners broadcast, and this influences their choice. 
It was also interesting to learn about the peculiarities of marketing and consumer behavior in Moldova and compare it with Ukraine. Here are some examples. 
The demand for service and the importance of the reputation of entrepreneurs and businesses in Moldova is much lower than in Ukraine. In Moldova, you are much more likely to learn about a service or product through word-of-mouth than in Ukraine. 
The Moldovan society has a highly developed lending culture, with people applying for loans for anything: vacations, weddings, and repayment of another loan. This trend affects not only people's solvency but also the marketing strategies of companies. When we draw up a portrait of the Ukrainian target audience and think about who can buy our product, Moldovan entrepreneurs simply create a credit program to get them to buy our product.
Businesses in Moldova don`t have an urgent need to stand out and be creative in product development due to the much smaller size of the market and the low level of marketing development. Ukrainian businesses need to invest a lot of effort to create something new. Moldovan businesses can copy and adapt more foreign ideas to their market, and it will work. 
What do you like most about your job?
— To develop cool marketing for businesses together with a team that helps and inspires. And get good results!
What is your mission?
— If we talk about my personal mission, it is to be happy in my home. 
My mission as a marketer is to make sure that my work brings decent results. 
In your opinion, what are the pros and cons of the marketing profession?
— Marketing is a very dynamic field. It is constantly changing and improving. This allows you to constantly develop, get acquainted with new technologies, and study human behavior. This is a plus for the profession.
On the other hand, marketing is not an exact science, and you can never predict something 100%. It can be difficult to explain this to customers, which is a significant disadvantage.
What's the hardest part of your job as a marketer right now?
— The hardest part is when you want to do everything at once. You start to do it, realize that you won't be able to do it in time, get annoyed, and put all the tasks in a queue. And so on in a circle. 
What qualities should a marketers have? 
— A marketer should have a list of qualities that may sometimes contradict each other:
first of all, it is competence (basic knowledge) and openness to new information;
flexibility and adaptability;
analytical skills and creativity;
thirst for in-depth study and the ability to stop in time;
multitasking and ability to delegate;
autonomy and communication skills (when working with a team);
stress resistance and empathy.
What were the biggest failures in your practice?
— Perhaps this is the experience of working with projects where the business was not yet realized. Sometimes you start working on a project and already have a lot of hypotheses, see what and how it will work growth points, and weaknesses. But instead of testing hypotheses, you spend most of your time proving to the business owner the need for development and change. 
What advice would you give to a newbie who came to study with you?
— Everything starts with Kotler, and the work on the project begins with an analysis…😉
What trends do you see in marketing? 
— I can highlight a few points that I noticed. 
The political and social views of companies play an important role. This trend is observed not only in Ukraine. It is noticeable all over the world, but in our case, it is the attitude towards the aggressor country and the war, while in others it is the company's social responsibility and environmental friendliness. 
Automatization, and implementation of end-to-end systems that help the business. For example, using artificial intelligence to create business analyzes.
Personalization. They respond less to regular advertising, but pay attention to individualized offers. For example, a selection of similar products to those already viewed. 
Simplification of purchase steps. Customers should be able to buy goods and services everywhere — on the website, in social networks, and in the app. The introduction of one-click payment speeds up the checkout process and increases emotional purchases due to ease. 
Visualization of goods on websites and applications. This is when the visitor sees not only the product but also the means of using it; the product in use. 
Interactive content. This is content on websites and social media that encourages visitors to interact. 
Videos should be short but contain complete thought. 
Customer retention. Previously, marketers paid attention to LTV, the low cost of repeat purchases. Now the competition is at the level of the company's reputation, and responses and feedback, the speed of response to messages and calls, and the quality of service matter. It is more important to retain an already engaged customer than to "bring" a new one. A simple example of customer retention is to calculate how long it takes to consume a product and remind the customer about yourself before this period expires. 
Complexity. It used to be that there were three "touches" from the first acquaintance with a product or brand to the purchase. Now there are much more of them, and the duration of the purchase decision depends on the topic. Therefore, it is important for companies to interact with potential customers as much as possible. Marketing is no longer about 2-3 separate tools. This is what Solve Marketing implements — an integrated approach that allows you to optimally influence the consumer's decision in favor of a particular project from different angles. 
In the Western market, there are clear trends in personal data protection, gamification and metaverse, and the use of artificial intelligence to analyze user behavior. 
What advice would you give as a marketer to entrepreneurs reading this interview?
— I would advise you not to neglect marketing — it is the very fuel for the train that moves the business forward.
Kristina, thank you for the interview! 
Доброго вечора, ми з України!
Доброго вечора, ми з України!
+
And while our managers are fighting for the opportunity to contact you,
let's get to know each other better.